About The Splinters
The Splinters, a bluegrass and old-time string band from Massachusetts, deliver a relentless groove to accompany their tight 3-part harmonies. Anne Rouillard (fiddle) brings the heat to her old-time influenced fiddle playing. J Johnson (mandolin) adds a jazzy flair to his breaks. Chris Reckling (guitar, banjo) picks solid rhythm and punchy leads on top of Garrett Wallace's grooving bass fiddle. A Splinters set veers from straight ahead bluegrass to traditional fiddle tunes and back, with the occasional detour into a modern song.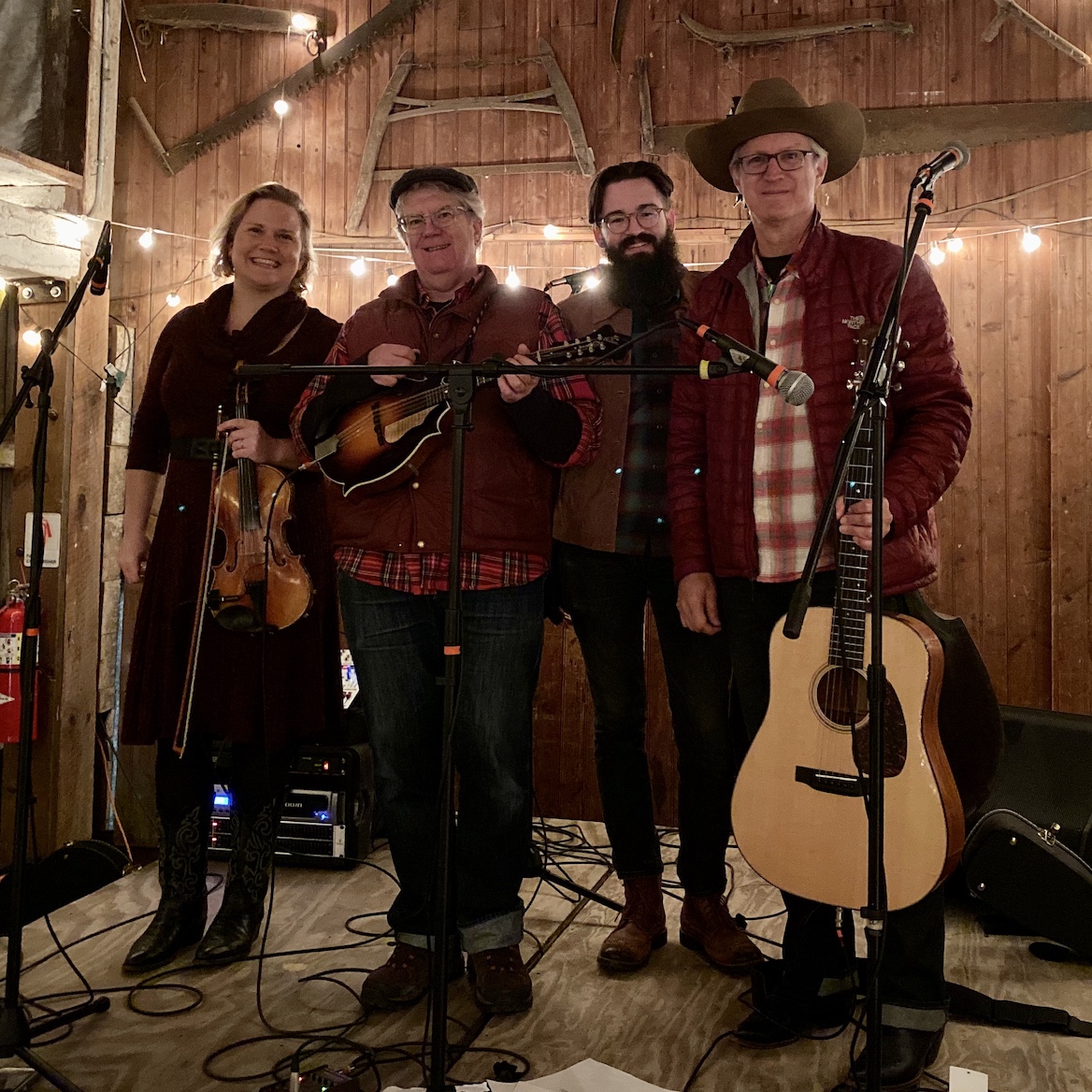 They released their first album as a quartet, "Grey Owl". Their second album, "In the Pale Moonlight", was released in August, 2023. Both are available on all major streaming platforms and on Bandcamp.
The Splinters were formed by Berklee roommates Chris Reckling (guitar, vocals) and J Johnson (mandolin, vocals) in 2010, after spending many years playing rock, jazz, and folk music around Boston. They added Garrett Wallace (bass, vocals) in 2016 to keep the groove going and add a third harmony part. 2019 brought on fiddler Anne Rouillard to the mix. From there, they have been entertaining audiences all around Boston and the surrounding areas.
The Splinters released their first album in November 2016 as a duo, "Old Songs", which tells you where they are coming from – mining tradition for new meaning, all while tapping your feet and having a good time!
"It was so great to have you there, thank you all for being so flexible and for helping to set a great mood for the night." – Barn dance client
"I was just going to send you a note to thank you all for a wonderful performance. I received a lot of positive feedback from many parents and I thought the music was terrific!" – Harvest fair client.
About the band
Wherever you may come from, you are a product of that place and contribute your own unique perspective to the music. Here are our stories. What are yours?
Chris Reckling (guitar, vocals). Born in Houston, Texas, Chris' family moved west to California and then found a home in Phoenix, Arizona. It was there he began playing guitar with friends in high school, leading to a lifelong love affair with music of all types. His first encounter with bluegrass was via the popular Will the Circle Be Unbroken album and then Old & in the Way. After moving to Boston to study Jazz at Berklee College of Music, Chris circled back to his roots in 2010, to learn classic fiddle tunes and bluegrass standards. The Splinters were formed as a duo and grew from there. Chris' influences include Norman Blake, Tony Rice, and Doc Watson.

J Johnson (mandolin, vocals). J hails from the great bluegrass town of Cleveland, Ohio, moving to Boston to attend Berklee College of Music to study keyboards and jazz. He has a long, sordid history of rock and jazz bands before coming to bluegrass some years ago via the Chris Thile/Michael Daves duo that the early Splinters were modeled on. Influences include Chris Thile, David Grisman, and Tim O'Brien. He currently resides in Somerville, MA and still plays the occasional rock guitar with Johnny Blazes, as well as The Parlour Bells.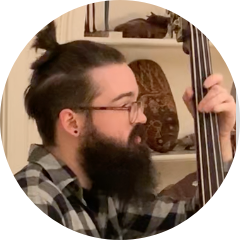 Garrett Wallace (bass, vocals). Garrett was born in Toledo, OH and raised in Sioux Falls, South Dakota, listening to old bluegrass on his grandfather's knee. He moved to Boston in 2008 to attend Berklee College of Music, graduating with a degree in Music Ed. Garrett is a multi-instrumentalist and plays bass with the progressive rockers, Rogozo, as well as holding down the low-end for the Splinters. He currently teaches music in the Lexington Schools and lives in Natick, MA.
Anne Rouillard (fiddle, vocals). Anne is from Northern Virginia, where she could feel the pulse of the nation, right outside Washington, D.C. She began her musical journey on classical violin at the age of 10, but fell for bluegrass at MerleFest while still in college. A trip to string camp at Ossipee Valley Music Festival sealed the deal, and Anne has been exploring old time and bluegrass fiddle ever since. Brittany Haas has been a major influence on Anne's playing and approach to fiddling. She has a degree in Library Science, from Simmons College, and now resides in Marlborough, MA.